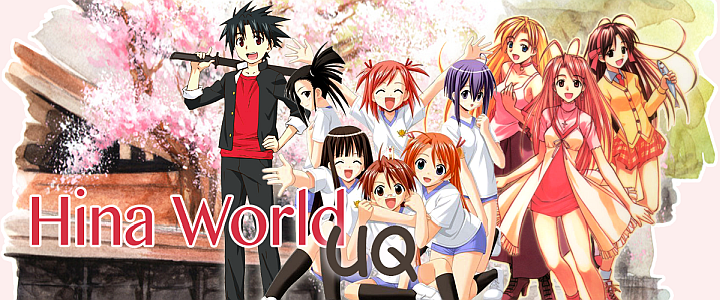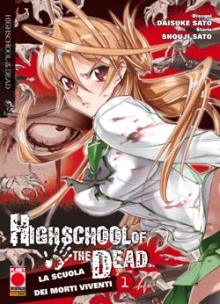 03 September 2010
Returning from vacation, again overwhelmed by the chaos of everyday life between work and school
there is nothing better than a new reading
to escape from them. Moved by curiosity, after viewing the first episodes of the animated series which has began in July, I start reading
Highschool of the Dead
, published since April in the Italian edition by Planet Manga. With the plot by
Daisuke Sato
and the drawings made by
Shouji Sato
is a title whose elements certainly will be argued for years.
The story starts at an high school in Tokyo attended by
Takashi Komuro, the protagonist
. One day while he is on the terrace, having again missed lessons, he see a macabre event at the main gate. A teacher is attacked by a strange creature and is brutally murdered. But then he wake up from the ground, turned into a zombie that attacks and kills every human being who floats by him. Komuro runs in class and in the middle of the lesson convinces Rei Miyamoto, his childhood friend, and her boyfriend and his best friend Hisashi, to get away. Along with a little group of students they attempt to escape from the school where the chaos has now broken out between zombies and dead returning to life.
Thus began a thrilling escape for the survival of the protagonists
who attempt to save themselves from this pandemic that turns men into monsters and that seems to have infected the entire planet.
The plot
, while it isn't one of the most original,
still managed to be compelling and surrogate by the dark atmosphere definitely inspired by American horror movies
. Many are the citations within the chapters that fans of horror and zombies will not fail to detect.
Inside we can find
a mix of splatter and massive fanservice (which often falls  into ecchi)
that makes this manga quite unique and certainly
suitable only for adults
. The cruelty wherewith the zombies are being massacred by a group of young students can no doubt be debated but the story calls to mind some questions about our life: if our society as we know will disappear from one day to the next, what will remain? Love and altruism or anarchy and struggle for survival?
The authors have chosen to emphasize this aspect
by showing a world in which the second hypothesis wins while a parallel group of students is forced to grow and mature quickly in a society that does not belong and where they are forced to do horrible acts to save their loved ones, in the difficult effort not to lose their human side.
This is
one of the strenghts of Highschool of the Dead
and it is essential to read through the pages, hidden between exploding heads and breasts, the message of the Sato's brothers.
A superficial reading does not allow a full appreciation of the work and if you are intended to do so, please leave this manga on the bookstore
.
Currently in Japan has been published 6 volumes and the series is going on. Recommended for those who appreciate the genre horror-ecchi or want to engage a different reading from the ordinary but not expect a masterpiece.
You may be interested in...